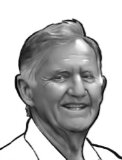 Session of april 28th 2015
The Train Carrying Jimmie Rodgers Home
Herb has been playing double bass along with Wayne Henderson for more than 50 years. We have been honored to play and record with him and Wayne.
Herb Key grew up in musical family in Wilkes County. He has played music for most of his life, and he grew up listening to old Carter Family recordings, mesmerized with Mother Maybelle's guitar playing. He also listened to radio programs and has fond memories of listening to the Grand Ole Opry on Saturday nights.
Herb's mother and father both played music, and his Uncle Bob, also a musician, showed Herb how to tune a guitar. When he was sixteen, Herb's parents bought him his own Silvertone guitar, an instrument he still owns. In school he played in a band with other friends in the Future Farmers of America. The group would play gospel music and other traditional music of the area.
In the 1970s, Herb, along with Larry Pennington, Raymond Pennington, and Paul Gentle, formed the High County Ramblers. Larry Pennington was a widely-known and respected banjo player from Ashe County who helped many musicians get involved with the local traditional music. His legacy is celebrated annually with a festival in Ashe County. Johnny Miller, and Wayne "Hot Picker" Henderson joined the band shortly after it was formed. This group won the Galax Fiddlers Convention in the bluegrass band category the year they formed.
Herb mentions Dan Crary and the Country Gentlemen and Doc Watson ("Our buddy down the road.") as being key musical influences. He recorded an album with the High County Ramblers, and later he recorded another album with fellow guitar players Wayne Henderson and Ray Cline to highlight the guitar styles of these pickers. Herb has won several ribbons in folk singing competitions at regional festivals.
More informations about Herb Key : http://www.blueridgeheritage.com/traditional-artist-directory/herb-key
And : http://www.blueridgemusicnc.com/listen-and-learn/artists/herb-key