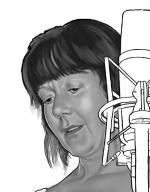 Session of may 15th 2015
The Water Is wide / La Mer Est Immense
Lee Hunter is a singer, an award winning songwriter, rhythm guitarist, percussionist and pianist with a passion for American roots music and folklore. From 1992-2014, she worked with guitarist Arvid Smith as the critically acclaimed duo, Tammerlin. What you heard was exceptional guitar work accompanying clever original songs and traditional tunes pulled from the roots of American music.

Hunter is now pursuing her own musical path. Still passionate for the stories this music conveys, she is continuing and building on the sonic history of Tammerlin while exploring new directions and new collaborations with a diverse group of artists-singer-songwriters, symphony players, actors and writers.

She recently created a chamber work of music and spoken word for the Cummer Museum of Art & Gardens in Jacksonville, FL along with Charlotte Mabrey, percussionist and Associate Professor of Music at the University of North Florida and Philip Pan, concert master for the Jacksonville Symphony Orchestra. Hunter's focus continues to be on performing and writing songs in the Americana genre. She and Walter Parks, longtime guitarist for Richie Havens and a fine songwriter and solo performer, were asked to open a show for Emmylou Harris this past summer. Her management was so impressed that Walter and Lee were asked to open some additional shows for her. Hunter and Parks plan to continue to work together from time to time. She's also teamed up with Joey Kerr, an excellent guitarist and mandolin player and a fine songwriter in his own right. They plan to work together on many performances.

In addition to her regular concert performance, Hunter offers educational music programs for students and two special concerts of music and spoken word-a holiday program,"Wintersong-A Celebration of the Winter Season" and "Civil War & Seafaring Songs".