If you took all the guitar strings Elisabeth Williamson has been through over the years, and set them end to end, they would reach from St. Augustine to San Francisco. She's thirty-five years "Deep" into a professional career. Over three thousand gigs. A repertoire the size of a small town phone book. Hundreds of music festivals. A player and lead singer in bluegrass bands, country bands, folk trios, madrigals and jazz ensembles. Plugging in at honkytonks, wine bars, churches and barns, gourmet restaurants and rodeos around the country. Singing at funerals and weddings and christenings, anniversaries, fund-raisers and hayrides.
But never a record. Never a "Folks, here's one I wrote myself."
Until now. And she delivers "Deep"
Perhaps there has never been a debut record of originals by any artist who has wood-shedded so long, who has spent this much time honing their craft, selecting their thoughts and words, tuning and crafting and raising the bar.
~ Grant Peeples
Lis website : http://www.elisabethwilliamson.com/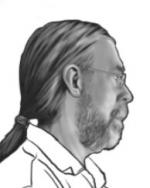 Lon is a musician, luthier and great sound engineer. Along with Lis, he plays double bass and mandolin. In his lutherie workshop he builds mandolins and other string instruments. In their Gatorbone Sudio, he works on recording and mixing with great success for bands and local artists.