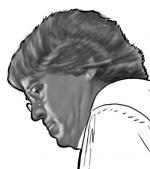 Session of may 18th
Don't Think Twice, It's Allright / N'y Pense Plus Tout Est Bien
We met Arvid Smith and Lee Hunter at Gail and Tom Watts many years ago. We were on tour, and they were playing at Merlefest (North Carolina) as Tammerlin.
Tammerlin does not play any longer, but friendship staid. Arvid came twice in France to play with us, and we joined him in Florida for gigs many times.
He's a talented guitarist reputed in Jacksonville, where he lives, in Florida, and abroad. He's considered in The city of Jacksonville as one of the major local musicians. He played in many bands, and lately he has been playing in "Canary in the coalmine". He plays electric and acoustic guitar, dobro, and indian sithar. He spends his time between gigs, recording, teaching and creating.
He grew up with the Beatles, and he kept the taste of exploring sounds and harmonies. In traditional american music, as well as in blues, rock or indian music Arvid is a source of great ideas. And he is a friend.