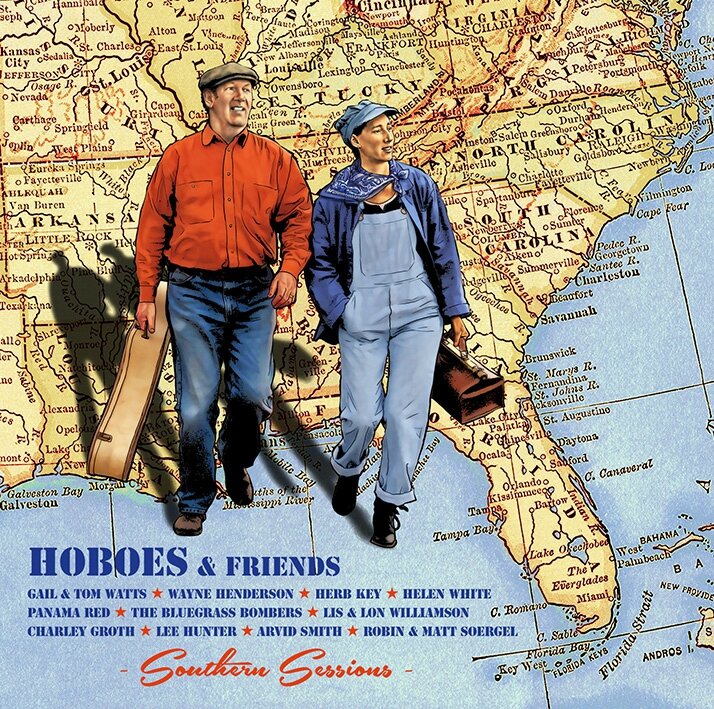 Revivez une partie de notre prépiple et des séances d'enregistrement avec ce film réalisé par Jean-Luc.
Live a part of our trip with the movie below !

Southern Sessions - Hoboes and Friends par marylouband
Octobre 2016 : Nous projetons de publier quelques exemplaires de ce film en DVD hord commerce pour nos fidèles. Si vous êtes intéressé(e) manifestez vous !
2016 october : We plan to make a few dvd of this movie for our friends. If you are interested, please let us know !

In april and may 2015, the Hoboes (Félicie and Jean-Luc Brosse) has recorded an album of duets with many american artists. Learn more about this human and musical adventure.
English version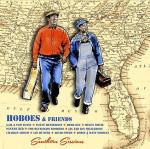 Order on line

The guests :

Gail and Tom Watts

Wayne Henderson
Herb Key

Helen White

Panama Red

The Bluegrass Bombers

Lis and Lon williamson

Charley Groth

Lee Hunter

Arvid Smith

Robin and Matt Sorgel
artwork
version française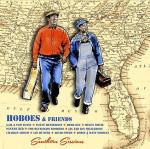 Les invités :

Gail et Tom Watts

Wayne Henderson
Herb Key

Helen White

Panama Red

The Bluegrass Bombers

Lis et Lon Williamson

Charley Groth

Lee Hunter

Arvid Smith

Robin et Matt Sorgel
Le design du livret :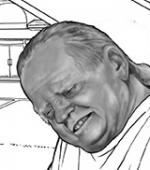 Session du 4 mai 2015
Nous avons rencontré Panama la première fois en Hollande en 2001 chez Rob Dokter. Rob (the Doc) avait acheté un restaurant à Wittepaarden et organisait des concerts. Panama était en tournée en Europe. Nous l'avons revu à plusieurs reprises en france et aux USA chez lui près de Nashville, Tennessee. Nous sommes devenus amis et il a participé à plusieurs tournées avec le groupe Mary-Lou. Nous nous sommes également fréquemment produits avec lui aux USA. Il était depuis longtemps tout en haut de la liste des artistes américains avec lesquels nous rêvions d'enregistrer. Son dernier album, Choice Buds est toujours en vente sur son site : http://www.panamaredmusic.com/
Panama a écrit de très nombreuses chansons et il est très apprécié dans le milieu de la country alternative. Sa chanson "Wish For Yesterday" qui figure sur notre album, n'avait jamais été enregistrée auparavant.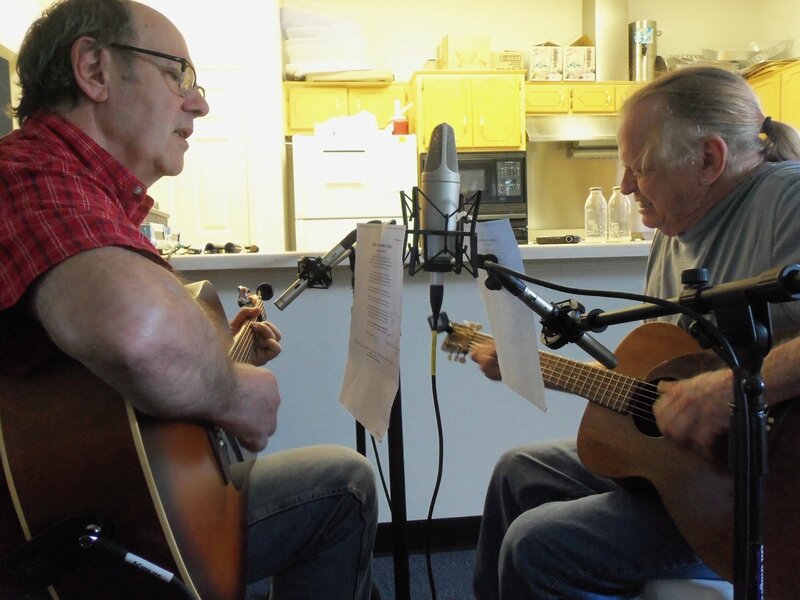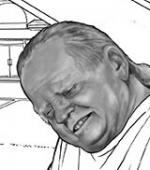 Session of may 4th 2015
Danny Finley (born April 15, 1945 in East Lynn, WV) is an American musician and song-writer, best-known under the name Panama Red.
He enlisted in the US Army in 1962, studied at the US Army Information School at Fort Slocum, NY, and was a Korea stringer for Pacific Stars and Stripes in 1963-64. He worked as a feature writer for the United Nations Command Korea Magazine "Friends of Freedom" in 1964-65. He was separated from active duty in 1965 and honorably discharged in 1968. Upon separation he lived for a short time in San Francisco, where he acquired the nickname Panama Red.
He left San Francisco in early 1966 and returned home to St. Petersburg, Florida. There he began to perform as a guitarist in several bands and as a solo folksinger, notably at the Beaux Arts Coffeehouse in Pinellas Park. In 1967 he moved to New York's Lower East Side and for six months managed a coffeehouse called the Cafe Eye on 10th Street across from Tompkins Square Park.
Returning to Florida he became a managing partner in a head shop called Yellow Submarine in Clearwater. Continuing to perform, he was a founding member of Bethlehem Asylum, a fusion band with two recordings on Ampex records, "Commit Yourself" and "Bethlehem Asylum" in 1970 and 1971. Bethlehem Asylum officially disbanded in 1972. The surviving members, Charlie DeChant (Hall and Oates) and Russell Buddy Helm (author of "Drumming the Spirit to Life") remain close friends.
In 1971 he moved to Nashville for a short period of time, where he became Billy Joe Shaver's guitar player[1] and co-writer with Shaver of "Bottom Dollar." He appears on Shaver's record "Old Five and Dimers", produced by Kris Kristofferson. In 1972 he returned to Florida to take advantage of a scholarship in the Music Merchandising program at the University of Miami. He left after one semester to return to Nashville, and continued to play as Shaver's guitarist.
It was during this time that he made the acquaintance of Richard "Kinky" Friedman,1 and appeared as a guitarist on Kinky's record "Sold American", produced by Chuck Glaser. Shortly after returning from Miami he joined the Texas Jewboys(Kinky Friedman's band) in New York City, appearing with the Jewboys at Max's Kansas City. There, he began a collaboration with Friedman on Kinky's eponymous ABC album, written in fits and starts in NYC, Austin and Mexico. The album was recorded both in Nashville (Willie Nelson, producer) and.in Hollywood (Steve Barri, producer), and released in 1974. Between tours with the Texas Jewboys he worked as a recording musician in Nashville.
He parted from the Jewboys in 1975 and began performing as The Legendary Panama Red. From 1976 to 1979 he toured by bus with his band Montezuma's Revenge. He was the one of the first acts to appear at the Lone Star Cafe in New York City. He performed at Armadillo World Headquarters in Austin, Texas, the Horseshoe Tavern in Toronto and at the Old Mill in Mill Valley, California as well as numerous other venues in the U.S.
His work with his band brought him to the attention of the producer/bassist Felix Pappalardi (Cream, Mountain), who subsequently became his friend, mentor and sometime employer. After Felix's untimely death in 1982, Panama entered into a period of solitude and, wanting to "use my left brain", he became a carpenter. He studied computer science at Miami Dade College in 1982 and 1983. In 1986 he enrolled as a radiography student at Northern New Mexico College. While a student there he edited portions of a radiologic physics textbook (Radiologic Science for Technologists, Bushong, 4th Edition). He graduated with a GPA of 3.89 and is a member of Phi Theta Kappa, He also attended the University of New Mexico, majoring in Journalism.
In 1990 he moved to San Francisco and worked at the VA Medical Center there. He left employment there in 1993 and began to perform again. He performed and lived in Nevada City, California, for a while and then moved to Seattle, where he lived until 1999, when he left the country to live and work in Amsterdam. He returned to the U.S. on Christmas Day 2001.
Since his return to music he has made two albums (HomeGrown and Choice Buds), and has appeared in numerous small venues in America, interspersed with performances, both as a solo artist and as a backing guitarist, in Norway, Sweden, United Kingdom, France and the Netherlands.
He continues to write and perform and currently lives in Rockvale, Tennessee.
He is credited by etymologist Barry Popik with the first use of the rhyming phrase "Lost in Austin" (1976).
Albums as Featured Performer
1970 "Commit Yourself" (w/ Bethlehem Asylum)
1971 "Bethlehem Asylum" (w/ Bethlehem Asylum)
2000: " HomeGrown"
2005: "Choice Buds"
Panama red website : http://www.panamaredmusic.com/