10 août 2015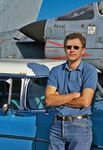 Jocelyn M. Lecocq has created all posters and artworks of Mary-Lou and Hoboes group since 2002. Graphic designer, photographer, videomaker, he is passioned about American vintage culture. After fine arts studies, he begins to work in video, photo, and then computer graphics... Otherwise he is a reporter for various magazines specialized in collectible vehicles, another of his many passions. He is also an amateur guitar player fan of American music oldies.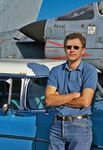 Jocelyn M. Lecocq a réalisé l'ensemble des affiches et livrets du groupe Mary-Lou et des Hoboes depuis 2002. Graphiste, photographe, vidéaste, voire styliste occasionnel, c'est un "touche à tout" passionné, notamment par la culture rétro américaine. Après un passage aux Beaux Arts, il œuvre dans la vidéo et le cinéma, la photo, puis l'infographie… Il effectue parallèlement des reportages pour divers magazines spécialisés dans les véhicules de collection, une autre de ses nombreuses passions. C'est également un guitariste amateur de musiques américaines d'antan.
Wilfrid Cadet is a passionate. You can tell when you meet him. He is mainly gifted for portraits, even if he can draw any subject. To illustrate this album, he has released wonderful portraits. He is a dicreet character who has inherited this gift from his father. We fill blessed that he accepted to work with us on this project.
Wilfrid Cadet est un passionné. Quand on le rencontre, on le sent immédiatement. Il est particulièrement doué pour les portraits même si il peut aborder avec bonheur à peu près n'importe quel sujet. Il a réalisé, pour illustrer cet album des dessins extraordinaires. Wilfrid est un personnage très discret qui a hérité ce don pour le dessin de son père. Nous sommes heureux qu'il ait accepté de collaborer à ce projet.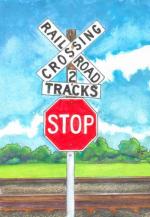 One day, on the way back from a gig, we rode a long time with a young passenger who was drawing everything she was seeing. Looking at his works, we thought "she's very talented, we'd love to share her enthusiasm, let's keep in touch". The passenger was Marie Béney. She was 18 and was drawing since she could hold a pencil. She has been learning fine arts for 3 years in Nantes, Quimper and she keeps on learning graphism in Paris. On the side, she's been learning fiddle for 8 years and she now begins to play guitar.
« The project I worked on with the Hoboes and their designer, Jocelyn Lecocq has been my first professional job. I hope I'll be able to meet such a fine team soon.» Marie
Learn more about Marie's artwork on http://maudjow.tumblr.com/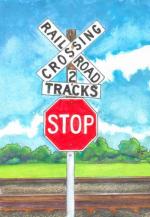 Un jour, de retour d'un concert, nous avons fait un long trajet avec une passagère qui, un cahier à spirale dans une main, un crayon dans l'autre, a passé tout son temps à dessiner tout ce qui lui passait devant les yeux. En jetant un œil nous nous sommes dit « on aimerait partager son enthousiasme, restons en contact ». C'était Marie Béney : Elle a 18 ans et dessine depuis qu'elle a appris à tenir un crayon. Elle a participé durant 3 ans aux cours de beaux-arts de Nantes pour jeune public et, après des études dans le graphisme, et après une MANAA cette année à Quimper, elle entame un BTS de design graphique option numérique à Paris. A côté, elle apprend le violon depuis 8 ans et vient de se mettre à la guitare.

« Le projet auquel j'ai participé grâce au groupe Hoboes et leur graphiste Jocelyn a été ma première occasion professionnelle, aussi j'espère pouvoir rencontrer une équipe de travail aussi agréable prochainement ! » Marie
Plus d'infos sur Marie ici (blog)

07 août 2015
What a wonderful project - all the way round. The music is great(!) and the booklet and photo/drawings are really cool. I will share these proudly with some family and friends. Thanks again for including us in this very special project. much love, helen
L'album est magnifique. J'aime beaucoup le visuel. L'album .... un régal 400 % Mary Lou, c'est comme si nous étions parti avec vous. c'est vraiment un beau projet.
We love the new Southern Sessions CD and are proud to have been a part of that. Thanks you so much for including us. I received the CD's you sent and also the poster, which I have framed and am hanging on our wall. David
Nous avons bien reçu le nouvel album, et c'est avec un réel plaisir que l'écoutons.(FCB)
Thank you for sending the CDs. It is wonderful! I have very much enjoyed listening to it. The art work is very nice, too! Thank you for making me a part of it. Lee
I just received my second package of the new CD and he poster is already hanging in the music room. Bravo, I still cannot believe I sang….. The video looked wonderful too. Great job , great concept, and proud to be with so many of your friends. Arvid
Thank you for the copy of your CD which we received last week, we feel highly priveleged to have a copy. It looks like you had great fun on the road touring and playing music with friends - the descriptions and pictures with the CD are great! (And the music of course!) Thanks once again for the CD, it's nice to think that we played a very minor part in the making of it. (KN)
Le CD est super!!! (MV)
Just wanted to tell you that the new CD has "lived" in our car CD player since the day it arrived. We've heard the music every time we've been on the road, plus another copy in our house player, and it's a great job to hear you singing in this very personal recording. What a pleasure to have this. Tom and Gail
Salut les vagabonds ! Merci pour ce bel album... bien rempli de chouettes chansons ! On voit bien que vous vous êtes pas ennuyé aux Staytss... Voici la dernière play list du Blues des Canuts.
La pochette-livre est vraiment superbe. Conviviale, drôle, bon-enfant, c'est un beau partage que vous faites là. A midi, j'ai seulement écouté les deux premiers titres, maintenant je vais quitter mon atelier, m' installer dans un fauteuil, me servir un bourbon et vous écouter vous et vos amis. Du bonheur à portée de main en somme...
Thanks for including on the CD a couple of songs with me. It is a very nice CD, very well done, and I appreciate being a part of it. All good! This is the only time "Trail of the Lonesome Cowboy" has been recorded. I appreciate very much your using it. Hearing the recording of it makes me think of my mother, gone these many years, and that is good. Charley Groth
I received the CD's yesterday. Wow, how great! Thanks! Thanks for letting us be part of it. Thanks for all your hard work. I am so impressed with the end result. The sound is great. That artwork is so cool. What a neat thing has bloomed from our friendship. I have neglected playing my guitar recently, but this gives me the desire to make more music. I am so pleased, Thanks, Steve
J'ai pris plaisir à rester écouter les titres, d'abord dans l'ordre, puis, plusieurs fois, casque dans les oreilles ce soir. Dur de faire son choix !
Allez ! je donne mon ressenti parce que sensibilité oblige...et tant pis si c'est prétentieux !! (Et puis Arno pourra s'inspirer de mes pensées pour les travestir en anecdotes croustillantes sur ma personne comme il aime le faire durant l'émission).
*entre envolées rurales et entraînantes (Fly Around My Pretty Little Mis),
*jolies ballades et bluegrass...y'en a trop dans l'album pour tout citer,
*ode à Jimmie, un monument !
*mise en valeur de l'âme du violon folk sur tout l'album...comme c'est bon !
*jolie titre qui sonne à merveille avec le timbre de voix et le ton de la chanson (early morning train),
*belle voix avec enchaînement d'accord (wish for yesterday, etc...),
*du bon roots comme on l'aime à dire dans l'émission (clin d'oeil à Arno) avec I' ll fly away (mais comme tous titres en fait),
*du voyage dans tout le sud "Georgia, tennessee, texas, mississippi...on rêve
*"Make Me A Pallet On Your Floor"...j'ai pensé à du Warren Haynes
*down south...j'adore !
*"Heaven with you" et son accordeon qui te fait tendre l'oreille ! je sais que les americains ont développé des variantes sur cet instrument que l'on ne trouve pas en Europe. (je le tiens des musiciens de "Solas", des stars internationaux de la "Irish music" avec qui j'ai échangé quelques mots lors d'une soirée "très privée" au Pointin Still. Techniquement j'ai rien compris !! (serait-ce l'effet de la la bière ?)
*tremolo et/ou vibrato sur plusieurs titres qui s'associent à la sensualité de l'interprétation ( comme dans" the one rose")
*"The trail of the lonesome cowboy" = Un pan de la music country explorée
*de l'angleterre ou l'écosse à Pete Seeger, Bob et Joan...avec "The water is wide" : "An american ballad favourite" des plus populaire ! Faut faire vivre encore tout cela ! Vous avez bien raison de perpétuer les héritages... (et non Arno !...Renaud n'a pas planter d'oranger le premier) !!
*Ben moi aussi un jour je me retrouverai avec moi même à New Orleans...j'aime beaucoup aussi les accompagnements et passages guitares sur le morceau!
*merci pour le poète ! it's allright !!
*Texte de John Prine pour finir !! Voici mon premier album country que je me suis procuré et qui incluait ce titre. Je l'ai possédé peu de temps quand j'étais au lycée. Il était tellement beau, cet album, que je l'ai prêté à un type certainement mélomane mais que je ne connaissais pas et qui ne me l'a jamais rendu... j'avais zappé ça de ma mémoire ! Espérons qu'il en ait fait bon usage !
Et ben je prendrai ma guitare demain pour essayer de gratouiller "In spite of Ourselves" (malgré Moi) !...
...Merci Hoboes & friends A très bientôt dans les studios !
Nous avons bien reçu le disque, nous le trouvons excellent . Tous heureux d'avoir pu contribué à cette aventure. Bon vent pour la suite...
Nous avons reçu le CD . C'est du pur bonheur : les chants , la musique avec toutes les variations apportées par la contribution de vos amis c'est une vraie réussite . BRAVO !!!
J'ai trouvé votre nouveau CD très réussi, je l'ai déjà écouté plusieurs fois. Félicitations, et à très bientôt à l'occasion d'un concert. (J)
The CD turned out so well in every aspect. The music is a wonderful menu of American songs and the entire concept, from the nice idea to the final illustration, notes, photos and layout is fresh and fitting. We especially like the cover photo and the way the artist used faces and drawing to capture the spirit of the project. We've never really seen anything like this before. Take the time to pat yourselves on the back and enjoy the results of this fine endeavor. I've got a feeling that Hobos in Heaven are smiling. Thanks again for letting us be a small part of the CD. It's a true honor for us. And, we appreciate the CDs, which we will share with family and friends. Gail and Tom
Nous venons de recevoir votre CD et c'est avec plaisir que nous l'avons écouté . Félicitations pour ce gros travail de mise en oeuvre . Pratiquant la musique depuis 4 ans, je me rend davantage compte d'année en année de la difficulté de réaliser ce que vous faites ! Toutes nos amitiées et nos encouragements. (C et T)
Wow. "Southern Sessions" is so wonderful, from beginning to end. Thanks so much for including us. It's a real honor. Robin and Matt.
CDs arrived yesterday. I'm so very pleased to be included. Thank you both for inviting me. Panama Red
Un grand merci pour ce merveilleux voyage ... Très belle et émouvante interprétation de "the one rose" avec le grand Charley Groth.
Encore bravo pour ce CD qui en plus de ces superbes chansons est un très bel objet. Dans l'attente d'un prochain concert
Super j'ai eu mon exemplaire cooooool L'album est superbe ! Wilfrid Cadet

Merci pour cette musique pour ces chansons pleines de chaleur.
Vraiment génial ce disque !
Good job! Sounds really good. And good job on the banjo
Super visuel, très très chouette.
Bonjour,
Nous avons bien reçu le dernier N° 147 du Cri du Coyotte accompagné par ce CD cadeau de "Hoboes and Friends"
Merci beaucoup ,
Passé ce moment d'étonnement avec mon épouse, on écoute le CD toutes affaires cessantes tout en appréciant le travail remarquable de la jaquette : dessins + explications ....
Donc un second merci à ces musiciens "authentiques" pour leur démarche et pour nous offrir le fruit de leur travail que nous aimons particulièrement.
A et B C.
Plus qu'un simple CD, c'est un livre, un road movie, une aventure que je tiens entre mes mains, veinard que je suis! Je vais vous raconter tout ça mais commençons par présenter ces Hoboes, au nom qui est déjà un programme à lui seul, évoquant pêle-mêle la grande crise de 29, "les raisins de la colère", Pete Seeger, Woody Guthrie ou John Lee Hooker, les travailleurs itinérants sautant dans les wagons de marchandise, les bluesmen errant de juke joints en bouges mal famés pour gagner leur whiskey..